Accommodation
We recommend you to choose hotels near our conference venue from www.agoda.com and www.booking.com. A list of recommended hotels is appended below or downloadable here.
*Please note that the accommodation is not included in the registration fees.
There are some hotels which offer the special price for the conference's guests:
*** If you need any further assistance about accommodation, please do not hesitate to contact Ms. Dao Bich Ngoc: ngocbd@hvnh.edu.vn
Transport
Travels to Hanoi City by air
The Conference will take place in Hanoi City – the capital of Vietnam. The local airport is Noi Bai International Airport. It is about 30 kilometers to the city center.
Getting to the Banking Academy of Vietnam from Noi Bai international airport
Bus: Taking No.07 air-con public bus to transferring bus station in Cau Giay (opposite University of Transport and Communications), then take bus No. 26 air-con public bus to bus stops in Chua Boc street, and then walking about 200m to Banking Academy of Vietnam.
Taxi: After getting out of the arrival exit gate, you will easily find out a fleet of taxi waiting for you. It is approximately 32km from Noi Bai Airport to Banking Academy of Vietnam (through Nhat Tan bridge). The current price is around 400.000 – 500.000 VND for a pick up (cash in VND only).
Besides, if you travel from Noi Bai airport to other destinations in Hanoi city (for example: your hotel), you can find more information about transporting from the airport to Hanoi city in the following link:
https://www.tripadvisor.com/Travel-g293924-c219737/Hanoi:Vietnam:Transport.From.Noi.Bai.Airport.To.Hanoi.html
Public buses travel through Banking Academy of Vietnam: No.12, No.18, No.21B, No.23, No. 26, No.35, No.44, No.51
City transport: Public Buses, Taxi or Grab
Some of taxi brands:
- Mai Linh (+844 38 61 61 61 or +844 38 222 666),
- Taxi Group (+84 24 38 53 53 53, +84 24 38 26 26 26, +84 24 38 56 56 56, +84 24 38 57 57 57, +84 24 38 62 62 62)
- G7 (+84 24 32 32 32 32)
Other information
Vietnamese bank notes are available in the following denominations: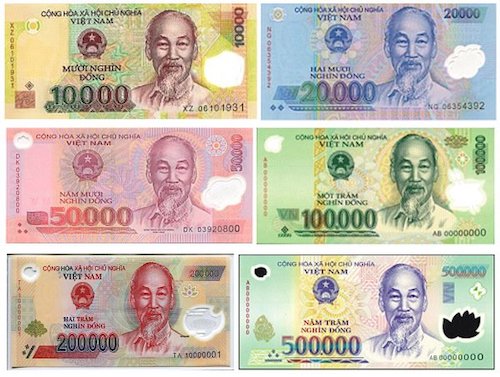 You should exchange money before arrival or at exchanges counter at the airport on arrival (US $1 ~ 22,700.00 VND). It is best to carry smaller notes. Debit and credit cards are widely accepted. We recommend having around 2.000.000 VND in cash when you arrive in Hanoi.
Gala Dinner
We will host a gala dinner to thank the sponsors and the participants that help us to organize the conference. If you have any special dietary request, please kindly let us know.